By Jimoh Babatunde
Samson Balogun is a young Nigerian,  who loves what he is doing as a  chef. At his young age, he has risen to the top of his profession as he is today, the second in command to the Executive Chef at the Intercontinental Hotel, Lagos as the Senior Sous Chef.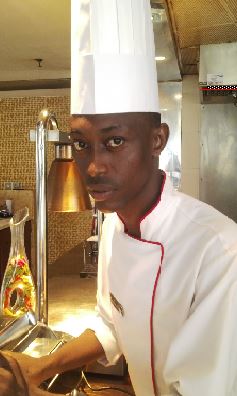 He tells you that he is nobody , who came from middle of nowhere, but his profession has given him that identity as somebody, because he sees what he is today as a divine call.
"I just got a calling, I did not know if I was seeing a vision or dreaming, but I got a call and was listening to what is called chef."
Balogun began his culinary expertise professionally in 2004 with Protea group from South Africa. After six  years with the group, he joined  Radisson Blu Hotel, where he worked  under  a German master chef, Casten Gust.
In this interview with JIMOH BABATUNDE,  the certified  United State of America chef  under the world renowned master chef Edwin Scholly, shares his experience. Excerpts:
On his journey into becoming  a chef
I think after my secondary school at Saint Finbarr's College, Lagos,  in 2004,  I just got  a calling, I did not know if I was seeing a vision or dreaming, but I got a calling and was listening to what is called chef.
I was not the cooking type, so why chef ringing in my head?. Anyway, I did not know what God wanted to do.
Fortunately , I was lucky, I met a white chef from South Africa, who  was working with  the Protea Group in 2004 and  needed someone to train as a  chef.
I was asked if I was interested and I said yes. From there I came into the kitchen from where the culinary journey gradually started.
I grew up very fast with him, and he really liked it. After the journey, I was given certificate  for my intern-ship to become a chef at Protea Hotel, Victoria Island.  I was there for six years as Commis Chef.
In between, because of my love for cooking, and the need to combine my culinary knowledge with education, I enrolled into a culinary school at Yaba , I later proceeded to study industrial relations and personnel management at Lagos State University. So, I am combining management with my specialization as a chef today.
I left Protea Hotel early 2011 for the Radisson Blu Hotel where I worked with different master chefs , and by 2013, I left for Intercontinental Hotel .
So, in 2013, I went for a competition, The Making of a Chef. There was a master chef, who lived in White House in the US, he came to Nigeria in search of the best chef.
I was among the three chefs picked in Nigeria in 2013. The following year, we joined him in the White House in the US, where we cooked . The three of us later went to Stratford University for one month intensive programme to improve on our culinary skill.
We were taught how to deal with Italian cuisine and were awarded certificates.
From there, I came back to Nigeria to  resume at Intercontinental Hotel.
On his experience so far
It has not been smooth sailing. To be a chef, you need lots of discipline. Being a chef is like climbing a ladder, you need to start from the scratch. You must pay attention to your chefs and must be ready to endure too.
It is natural for us to be crazy in the kitchen, we don't care because we work in a very hot environment , so all our system is very hot and we get annoyed easily with anyone that comes our way.
Timing is very important in the kitchen, it is a key aspect and if you say 10am, it must be .
If he will want to go through the experience again
If I come back again, I will still want to be a chef. I think, it is the best thing in the world right now.
We have gone into another world in culinary now and I think we have taken over the world, because everything now is about hospitality.
So, being a chef is a hot cake. If you are a professional chef under one month, you must get a job, because everyone needs a chef.
On the best advise for a novice
I need to talk to the  person  and see how I can advise the person,  because he or she  needs to understand the concept of what a chef needs to do. I will start from the intern ship stage. I will  not just take the person to the kitchen, I will start from the theory before moving to the practical , that is from the ABC of cooking.
You don't jump into the kitchen, the person needs to be advised on proper hygiene , you need to know how to store your food properly. You can't just leave everything outside, there must be proper storage .
I can remember my very first day in the kitchen as well . Immediately, I got into the kitchen I was asked to clean the fridge. I said to myself, I want to be a chef, not a cleaner.
His favourite gadget in the kitchen
Basically, I have my knife box. It is my best friend in the kitchen which I don't play with and don't like people using as well.
I strongly believe it is something that gives me money and because they are my best friends, I communicate with  them, though they are knives, they work for me.
So, I think, I am the only one that knows how to master what belongs to me. I don't joke with them any day,  any time.
They always look new, even if I have been using them years back, because of the way I handle  them and sanitize them after using.
On his area of speciality
A kitchen is divided into different aspects just like we have in other professions. So, in the kitchen, we have people, who specialise in salad, in pastry, some in meat, but some in Nigerian dishes, some in continental , some in a la carte  .
Yes, I have experience in everything, because I have toured all round the kitchen, but what I love doing most is fine dining.
Fine dining is a speciality in food , let us say, everybody cooks noodles at home. Some people just feel that when I make my noodles, I can decide to cut off , break the egg and mix together , but for me as a fine dining chef, I don't want to think like every other person is thinking, I want to do something different.
So, I am still making same noodles with egg, I will think of something to do to make it fine that someone will not know it is the noodles again. I will make my noodles separate, I make my omelet and will make the omelette flat and stuff the noodles in it and roll it .
So, everything is looking like an egg, it is until you have a bite of it that you will know you are eating noodles.
So, fine dining is twisting food to another level. Thinking  outside the box, I don't want to think the way every other chefs think . What, I want to do, I want to do it like something that has not been done before.
These are my strengths , playing with food to make it look different, it is also called gastronomy . Anything that has to do with colourful food, colourful plating, colourful presentation. This is what I   love doing most.
On the dining at Intercontinental Hotel
It is a large dining here , because we have different kinds of people coming in here from different parts of the world, so we have food from different parts of the world . We do cooking from the Italian side, we have from the Chinese side, Indian, Arabian side, European and Mexican. So, we do varieties.
I think on Sunday, we have the best brunch in Lagos. This is confirmed,  because of what we are doing . The food from all parts of the world are combined together every Sunday afternoon and we set them up in the restaurant .
If he  cooks outside the hotel
That is very rare. It is not just myself alone. Every other chef does that , you find it very difficult to cook at home. I don't just know why, but that is it. Even if you cook for us, we are not always pleased, all is complaints.
What he enjoys eating
I do local , if I am out of the hotel, maybe at home, I will like to eat something like garri and suya, those I can enjoy  very well.
Why I love food twisting — Chef Balogun on Vanguard News.