By Emmanuel Aziken, Political Editor
At the University of Benin where he was popularly known as TKO, after his initials, Professor Thomas Kehinde Obidairo was one of the least expected to engage in a brawl or even post a Technical Knock Out on anyone. However, what he lacked in physical aggressiveness, he more than made up for in his academic calling, pioneering academic departments and ventures in the Universities of Lagos, Benin, the Lagos State University and the National Open University of Nigeria, NOUN.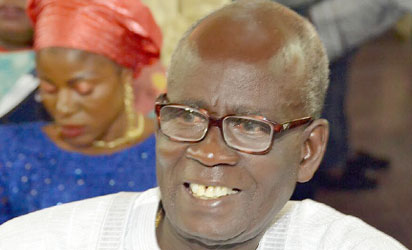 Prof. Obidairo, who clocked 80 last Saturday is remembered for his fatherly counsels to the many young undergraduates and post-graduate students who came his way as a professor of Biochemistry.
"Prof. Obidairo was more than a fatherly figure and lecturer to us at the University of Benin," Chizoba Mojekwu, now a director in the Central Bank of Nigeria, CBN who passed through Obidairo's Biochemistry class at the University of Benin recalled, noting how he provided for a number of the students within the limits of his earnings.
Besides Mojekwu, at 80, Obidairo recalled some professors, academics, industrialists and several others in the professions whom he would count as part of his legacy after nearly five decades in academia. A Lagos boy as it were, Obidairo was born and brought up in the heart of Central Lagos,   a child of special circumstances, having been "fatherless from birth."
"I was humous child of my father. My father had died five months before I was born… From that point on, it was my mother that took care of me. At a stage she had to leave for her mother's place in Lafiaji, Obalande, that's where I grew," he said.
His father, he claimed, however, left him with a lot of property ensuring that he was able to go through his education without much financial pressure on his mother. His education took him through Araromi Baptist School, Moloney Street, Lafiaji, St. Gregory's College, Lagos and eventually to the University of Ibadan where he read Special Chemistry and graduated in 1964.
"I then proceeded to the UK in 1965, on British Overseas Development Scholarship. The first year I had training in the Forensic Laboratory, Scotland Yard. I did the training for one year. After that I again applied to continue with my studies, I got admission to the University of London, Royal Veterinary College to do a Ph.D. which I completed in 1969."
Obidairo eventually returned to Nigeria despite job offers in England and picked up a job at the Chemistry Department, Federal Ministry of Health, the body that at that time did the combined duties now performed by the National Agency of Food Drugs and Administration Control, NAFDAC, National Drug Law Enforcement Agency, NDLEA and Standard Organisation of Nigeria, SON.
"We ensured everything brought into the country at that time met the standards. There was no magomago at that time; you reported whatever you saw..there was no bribery, corruption. Those who were caught with hard drugs, the samples would be brought to us in Chemistry Department, where we did the analysis to confirm, and we would write a report. Such persons were prosecuted."
The bug of the academia finally caught him in 1971 when he started work as a lecturer at the College of Medicine, Idi-Araba.
"I was there till 1974 when I got doctoral fellowship to go to Sweden, at the University of Uppsala, where I did some research works with Professor Porath and Dr. Eaker, we were there till 1975 when I again returned to Nigeria. I then moved to the College of Medicine, University of Benin, where I was one of the pioneer staff that started the Biochemistry Department."
While in Benin there were also post-doctoral fellowships that took him to Germany and he left UNIBEN in 1989 to the Lagos State University, LASU where he formally retired in 2001. But again he was called back to the world of academia in 2003 Talking about his experience at NOUN, he said:
"President Obasanjo was interested in the Open University and made efforts to resuscitate it, and brought in Professor Olugbenro Jegede, who was in China working at the distance learning institution there, very much experienced. He was brought in to coordinate the resuscitation, and in 2003, I joined the National Open University of Nigeria (NOUN) as a Professor and as what they called Study Centre Manager, which is now called Study Centre Director.
I was in charge of the Lagos Study Centre from that 2003 to 2010. Lagos Study Centre is the number one centre because of the population; people were very much interested in the programme. We had about 7,000 students in Lagos state only; we were conducting exams.
Given the topical assertion that many who veer into Biochemistry after failing the marks for Medicine, Obidairo firmly rejects such saying: "No! That is not true. Biochemistry is an interesting subject for me. For instance, I couldn't have studied Medicine because I cannot stand the site of blood, I can't stand it. So, I was not even thinking of that."
Asked the secret to his health and living in peace, he said: "For the young ones, I know they are going through a tough time. Still, they need to bear this in mind, not to be in haste. Just do your work as at when due. Pray to God to guide you, and I'm sure they will make it. "Also, if you can control yourself to stay with one wife, though it may be difficult, you'll be better off for it."
Secrets for good health at 80- Obidairo on Vanguard News.