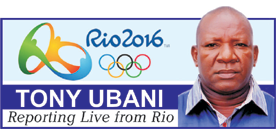 Before I left Nigeria, we had gone for four weeks in a stretch without any spark from the many electric poles obstructing our streets in the name of supplying light.
And yet, the greedy officials of whatever name they answer now still come at odd hours to smuggle their bills into compounds. I do not know the situation now. I'm so used of light here that I assumed the country inherited it from God.
Because, there are no signs of electric poles that disfigure the beauty of the land. Constant light is a common thing within and around countries who depend on Nigeria for survival. It's a sad tale of a country that gropes in the dark to supply others with light. Anyway, I have forgotten about NEPA and the vibrations of all manner of generators until I went into the room of my friend to see where his electric iron was displayed.
I thought it was a toy he bought from Brazil to mock those back home until I touched it to confirm that it was an electric iron.
''What are you doing with electric iron?'', I asked. "My brother, it was my wife who packed my things and I didn't know she included this iron'', he explained but was quick to thank the woman for her foresight.
''Our transformer has been down for two months and we have been living in the dark ages. I guess that made Madam to put the iron'', he explained. What a caring and loving wife! She may have thought that the husband would iron his clothes when the hotel powers on their generator. Mba! This is Brazil.
I remember that there was a time that Nigeria and Brazil were called third world countries. Our economy was booming more than theirs then. Through good leadership, they put things together for their people to enjoy comfortable lives.
This is the same country that many thought they had nothing other than to play football. All the luxury buses and Marcopolo that ply our roads are from Brazil. They make them here. Not assemble, like we deceived ourselves in Nigeria by importing engines and coupling them to shout ''Made in Nigeria''.
When you see Brazilians protesting on TV, we think we are better than them. A very poor man in Brazil is better than a middle class man in Nigeria. He has a comfortable home provided by Government and there is constant light and water for him.
There are more public schools than private schools here. The private schools are mainly for those who want to study foreign languages. It is not a class thing and you don't see big men sending their children abroad to study or people going to India for one medical reason or the other.
They have everything. This is a country that obeyed God when He said; ''let there be light, and light came and remained''. Can we say that as the largest black populated nation in the world? We are still reeling from the effects of South Africa dumping Nigeria out as Africa's largest economy. May God help us!
FLICKS: Let there be light! on Vanguard News.