Ben. Agande, Abuja
ABUJA: A deputy Chairmanship candidate and chieftain of the Peoples Democratic Party PDP from Bayelsa state, Barr. George Turnah has dismissed allegations that the party engineered the emergence of some militant groups including Niger Delta Avengers NDA to frustrate the administration of President Muhammadu Buhari.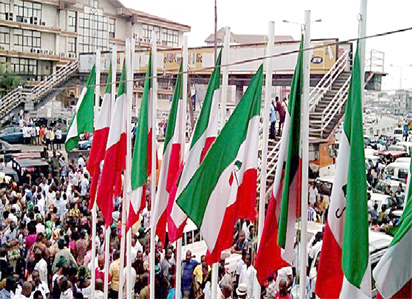 Speaking with journalists in Abuja chortle after he collected nominations forms for the deputy chairmanship position, Barrister Turnaj said what the party is concerned about now is reposition itself and to robustly engage the government in power in order for Nigerians to derive the best benefits of democracy.
"You are journalists and we all can remember that the media had reported before now that MEND was dead. Sometimes, when it suits us, we like to make issues out of nothing. We have problems in the Niger Delta, East, North and some other places and we are supposed to be seeking solutions to them.
"These things do not get us anywhere. I know that allegations, when you make them, you also take further steps to prove them, you do not just make such weighty allegations. Who takes pleasure in taking blood? We may not all be angels in the party, but when you talk about militancy in the region, it is purely a regional issue, of a people asking for their rights and other privileges, it is not a PDP matter", he said.
Turnah who added that the PDP was due for a reset and new mode of thinking said the crisis in the party is a "family affair" which would be sorted out for the greater good of the majority.
"I assure you that what is happening in the PDP would soon come to an end, not through the courts anyway, we are going to talk to ourselves and people would have to shift grounds, make some concessions in the interest of all", he stated.
PDP not sponsoring Avengers -Turnah on Vanguard News.