Ahead of the Peoples Democratic Party, PDP National Convention billed for August 17, 2016, in Port-Harcourt, the Rivers State capital, member of PDP Caretaker Committee, Barister Kabir Usman, has resigned his membership, to contest for of PDP National Publicity Secretary, NPS.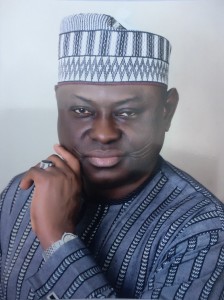 This is even as the Kogi state PDP elders caucus has endorsed Barrister Usman for the opposition party's spokesman.
In a statement by Pa Ibrahim Adama, the Elders caucus said the office of the National Publicity Secretary is very demanding, thus, "the need for such a man like Barrister Kabir Usman, with pedigree and outstanding reputation to be put forward. Kogi state will make the nation and PDP proud with Barrister Kabir Usman as the next image maker and voice of the PDP.
"Barrister Kabir the former Legal Adviser of the PDP, North Central has adequately utilized his office and as a member of the Caretaker committee, he was able to carry the grassroot along by adequately informing the state elders and excos on the activities of the committee.
"This time, his successes in the past made him a more credible candidate and he is much more organized. The role he played in the caretaker committee once again exceeded expectations as he more than doubled his previous results, as the PDP'S North Central legal adviser.
Adama added that "Barister Kabir played a very pivotal roled in PDP reclaiming its stolen mandates of two Senatorial seats, Kogi East and Central and has been on ground with the state PDP despite his Zonal and National assignment.
"Barister Kabir represents a fresh start and the new voice for the PDP. His past is not questionable and blemish."
National Convention: Kogi PDP elders caucus endorses Kabir Usman for NPS on Vanguard News.