By Nkiruka Nnorom & Naomi Uzor
LAGOS—Federal Government said yesterday that it has saved about N1.4 trillion that would have been paid as subsidy to oil marketers as a result of the successful deregulation of the downstream oil and gas sector a few months ago.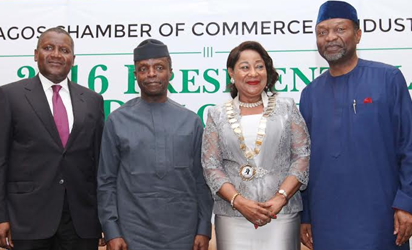 The Vice-President, Prof. Yemi Osibanjo, disclosed this while speaking at the Lagos Chamber of Commerce and Industry, LCCI 2016 Presidential Policy Dialogue Session, in Lagos, saying that the Nigerian economy remained resilient despite the huge challenges and downside potentials.
He noted that most of the refineries in the country were expected to resume operation in full capacity before the end of 2017,having set a medium to long term strategy in motion to overhaul and sort them out. Osibanjo explained that the successful deregulation of the downstream oil and gas sector has resulted in conservation of budget resources and reduction in demand for Foreign Exchange, FX. He said that the action has further reduced the need to import petrol, which was also being smuggled to the neighbouring countries due to previous price differentials.
Also yesterday at the same event President, LCCI, Dr Nike Akande and President, Dangote Group, Alhaji Aliko Dangote, said that the right mix of policies that would create enabling environment for businesses and collaboration with the private sector are needed to boost and restructure the economy. Osibanjo said said: "The immediate impact of deregulation was the availability of PMS throughout the country. This was achieved by the price of N145 per liter as against well in excess of N200 per liter  that was being paid in most parts of the country prior to deregulation. This action has also reduced daily demand for PMS from 1,600 trucks to 850 trucks per day.
"Of course, the medium to long term plan is to sort out the refineries; it is important for us to deal with refineries because as many of us have well known, one of the largest foreign exchange cost for us is the importation of petroleum products and at the moment, most of our refineries are operating at sub-optimum and what we are able to refine is negligible compared to what is required on daily basis. So, aside waiting for the Dangote refinery, which is 50,000 to 60,000 barrels, we also intend to fix the existing refineries. Hopefully, we expect that by the end of 2017, most of the refineries will be functioning to some reasonable capacity."
"The recent introduction of flexible exchange rate regime, which was meant to ease pressure on external reserves, is of course one issue am sure many will still want to comment on. But I think that the immediate effect of the devaluation and depreciation of the Naira and some of the consequences which include inflation is to be expected and I believe that as we see the implementation of that policy and clearer focus on a truly flexible exchange rate, we will be able to see the actual benefit of of this policy. I believe that the foreign exchange market will stabilise; confidence will be restored and there will be an increase in the supply of foreign exchange, especially due to inward investments," he added.
Capital spending
In a bid to fast track infrastructure development in the country, he said the federal government was set to release another N100 billion in a couple of days in addition to N332 billion earlier released for capital projects. "We have also pledged to keep the capital spending in the budget at a minimum of 30 per cent; this is a target we are determined to keep since it is investment that grows the economy. Accordingly, we have made capital releases of N332 billion, which is more than the entire amount of capital released last year with another N100 billion set to be released in the next few days. The main sectors for which the funds have being released are power, works and housing, defence, transportation and agriculture," he said.
Non-oil sector
He stated that due to the efforts being made by the administration to increase focus on non-oil sector and improve revenue generation, about 200,000 companies that were previously not in the tax net have been brought into the tax net. He added that one of the first areas the administration brought change in on assumption of office was in public financial management. "This has had a consequential effect of saving jobs, he said, adding, "The reality is that every ghost worker eliminated at the federal level is a job saved. Other policies used in this regard is the Treasury Single Account, TSA, which has brought transparency into inflows and outflows in the Nigeria economy."
Ease of doing business
The Vice president disclosed that a Presidential Economic Committee has been inaugurated by the federal government to ease the cost of doing business in the country. According to the vice president, the task ahead of the government is clear. It is to ensure security, fight corruption, improve the economy and business environment.
Our immediate task is to reduce fiscal and foreign exchange imbalances, boost foreign exchange liquidity, curb inflation, lower interest rate, ensure lending to the real sector. These challenges are significant but the opportunity to get it right is even more significant. For us, focus, steadfastness and consistency are crucial," Osinbajo said.
He said that the government was committed to engage the private sector and institutionalise quarterly meetings with the sector to achieve an enabling environment for businesses to thrive. Osinbajo said that the cornerstone of this administration was increased investment in infrastructure and diversification of the economy for growth.
According to him, the economy is resilient, has robust market with innovative and dynamic entrepreneurs, huge natural resources endowment that will be leveraged upon for economic recovery.
In her welcome address, the LCCI president,Mrs Nike Akande urged the government to improve its dialogue engagement with the private sector to generate feedback for favourable policies and economic growth. She said that creating an enabling environment through infrastructure improvement would increase the level of investment in the country.
Akande urged the government to fast track palliatives to cushion the harsh effects of the economic climate.
In his remarks, Alhaji Aliko Dangote, who faulted the reports that South Africa's economy has has overtaken Nigeria by $4 billion saidNigeria's GDP still remained the biggest in Africa
"In terms of economy, I don't believe in that number that South Africa is now the biggest economy in terms of GDP, that they have overtaken Nigeria by N4 billion dollars. What are the measures used in this indices; let it be measured by our rate of foreign exchange and see if they will get that same figure. I want to assure Nigerians that we still remain the biggest economy in Africa and I believe that soon, things will stabilise and the economy will thrive again" he said.
While the root cause of these problems clearly pre-dates the present administration, government being a continuum has meant that Nigerians look up to those presently at the helm of affairs in the three-tiers of government to come up with creative solutions to address our current challenges.
We are under no illusion that government can do it alone and so we would like to use this opportunity to reaffirm the private sectors willingness to play its part. Nigerians are renowned for their drive, doggedness, tenacity, industry and creativity. these qualities are an embodiment of ''Nigeria Spirit" and are on display on daily basis in the private sector. All Government needs to do is to remove obstacles that stand in the way of bigger and more productive private sector.
FG saves N1.4trn from downstream oil, gas deregulation – Osinbajo on Vanguard News.