…As contractors recalls sacked workers to sites
By Favour Nnabugwu
The federal government has paid road contractors a whopping sum of N70billion in Fulfilment of promise made to offset the huge debt owed to road contractors.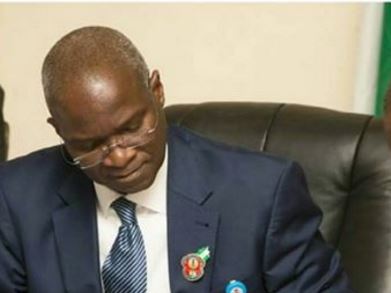 The Minister of Power, Works and Housing, Mr. Babatunde Raji Fashola, confirmed that N70bn has been paid to contractors out of the N102bn released to his ministry.
This was made known while speaking on the theme, 'Towards Effective Implementation of the 2016 Budget' at the Town Hall Meeting/Policy Dialogue for Good Governance at the Shehu Musa Yar'adua Centre in Abuja yesterday.
According to the Minister, "Work has resumed at Kano-Katsina road, Port-Harcourt-Enugu road, Lagos-Ibadan expressway, Loko-Oweto Bridge, and this has invariably led to economic improvement in the communities around those sites."
Fashola stated that in the past, government had been paying attention to recurrent expenditure as against the capital expenditure which has worked negatively against the nation's infrastructure and hence the economy. He said that his ministry had over 200 on-going road projects totaling over N2trn and that the N19bn released from the 2015 Budget was grossly inadequate.
According to the Minister, "41 Construction Companies including some consultancy firms have been slated for payment this quarter. The Ministry cannot accommodate all the contractors due to insufficient funds being expected from the Federal Government. The priority of the Ministry is to finish as many on-going road projects as possible."
On the amount allocated to the Ministry this quarter, Fashola said that N79bn is earmarked for road projects, N24bn for power while about N5bn for housing totaling N108bn.
However, the highlight of major projects in the 2016 Budget for the Ministries on road and bridges are  over 40 projects spread across the geo-political zones, including: N13 billion for Dualization of Kano-Maiduguri road (Sections I-V); N8.7 billion Reconstruction and Pavement strengthening of sections of Benin-Sagamu expressway; N14.2 billion for the Construction of Oju/Loko Oweto Bridge to link Loko and Oweto with approach Roads and Oshegbudu-Oweto road; N13 billion for Concession of 2nd Niger Bridge and N6 billion for Dualisation of Odukpani-Itu-Ikot Ekpene Road in Cross River and Akwa Ibom States
The others include: N4.8 billion for Rehabilitation of Ilorin-Jebba-Mokwa-Bokani road; N8.8 billion for Rehabilitation of Sokoto-Tabuwal Kotangora-Makira Road; N40 billion for Lagos – Ibadan road (Section I); N2.8 billion for completion of Gombe-Numan-Yola road phase II; N5 billion for the Rehabilitation of Apapa-Oshodi-Oworoshoki Road; N2.6 billion for Dualization of Kano-Katsina road phase I; N6 billion for Dualisation of Ibadan-Ilorin Section II; N5.5 billion for Rehabilitation of Enugu-Onitsha Road and N2 billion for Dualization of Sapele-Agbor-Ewu Road (Section I)
FG pays contractors N70bn – Fashola on Vanguard News.