The Nigerian Air Force, NAF personnel attached to OPERATION YAKI in Kaduna State have recovered 665 cows and 141 sheep (ewes and rams) from rustlers in Birnin Gwari area of the State.
The recovered cattle have been handed over to the State Security Coordinator, Col Yusuf Yakubu (retired), said NAF in a statement on its  Facebook page.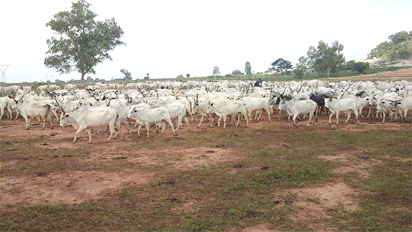 The Team, about a month ago, also recovered a stolen vehicle from an armed robber by name Sara Suka. The said vehicle has also been handed over to the Police.
Recall that OPERATION SHARAN DAJI was set-up to tackle the menace of cattle rustling, armed robbery and kidnapping in the North West region.
The NAF, being part of this operation, has been undertaking a number of air operations including surveillance and strike missions to support the operation.
A similar operation in Kaduna State, aimed at tackling all forms of internal security challenges, is code-named OPERATION YAKI.
Among platforms deployed for Intelligence, Surveillance and Reconnaissance (ISR) role in support of the operation are the EC 135 and Dolphin helicopters and ATR-42 MPA.
Cattle Rustling: Air Force recovers 665 cows, 141 sheep on Vanguard News.