By Haroon Balogun
As the 2016 Ahmadiyya world Islamic Conference opens today in London, United Kingdom, the group has announced the broadcast schedule and frequency tracking of the event from various parts of the world.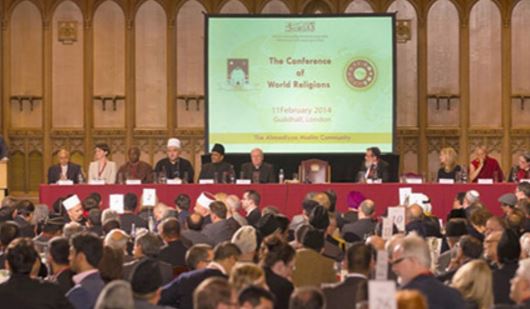 The parameters for tracking live broadcast from Muslim Television Ahmadiyya, MTA London for the event include: Satellite IntelIntelsat 20, Ttransponder EF34K, Turning frequency 12682 MTz, Polarisation H(horizontal), Symbol rate 26.657 Modulation QPSK, FEC 2/3, Orbital position 68.5 degree East.
However, Muri International Television, TVC will also give live telecast of the event just as Vanguard, Guardian and National Mirror newspapers are also on ground to give detail analysis of the convention.
Some of the issues on the table for discussion are peace talk among countries, banishment of insurgencies, eradication of poverty, agriculture among others.
The world Head of the Janata, His Holiness, Hazrat Mirza Masroor Ahmad, Khalifatul Masih V, will declare the three-day event opened with his inaugural address shortly after the Jumat prayers at the Hadeeqatul Mahdi, Hampshire, London today.
Over 35,000 participants and volunteers ready
Over 35,000 participants from across the world are expected at the event today. Adequate security arrangement and other logistics including feeding and accommodation have been concluded. Some of the officials told Vanguard that more than 5,000 voluntary workers, including youths, are everywhere to ensure participants have a hitch free convention. Some of them were seen at the airport (Heathrow and Gatwick) directing and assisting Muslims who had arrived for the event.
As at press time, the Baitul-Futuh Futuh Mosque, Morden, London, was unusually busy as Muslims trooped in and out throughout the day for registration and other necessary documentation necessary for the event.
Already, the Jalsa ground, Hadeeqatul Mahdi, Oakland farm is also wearing a new look.  The national flag of different countries represented at the annual event will be officially hoisted by the World leader, Hazrat Masroor Ahmad.
The Head of the Janata in Nigeria, and leader of the Nigeria delegation, Dr. Mashhad Adebule Fashola has urged Nigerians at home to stay glued to their television sets to follow the event, adding that the Gazelle online news medium and top national dailies present at the Jalsa will give adequate coverage of the event in such a way that Nigerians at home would not have missed anything.
Also, the Head Media and Director Muslim Television Ahmadiyya, MTA, Nigeria, Mr. Qasim Akinreti while addressing journalists preparatory to the event said: "We care about humanity, our programmes speak for us, just as our slogan indicates – 'Love for All, Hatred For None'."
Ahmadiyya world conference opens in London on Vanguard News.