By Peter Okutu
ABAKALIKI—Three police officers indicted in the stripping and battering of a 15-year-old Uzoamaka Chukwu in Umunaga Uburu, Ohaozara Local Government Area of Ebonyi State, are currently undergoing orderly room trial.
Uzoamaka was stripped naked and beaten with cables and canes by some persons in the area with the pictures and video of the incident posted on the social media since last week.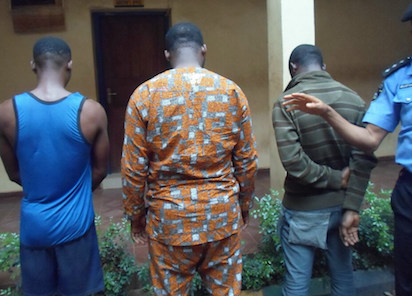 The state Commissioner of Police, Peace Ibekwe Abdallah, who stated this at the Command's Headquarters in Abakaliki yesterday, added that after the orderly room trial, the three policemen, if found guilty, would be prosecuted.
According to her, other suspects arrested in connection with the incident were Ene Odii Ogbonnaya, Coordinator of Ohaozara Development Centre, and two others.
"The victim has just been able to make her statement and the case is being investigated to ensure that justice is done," she added.
She assured that the incident will be properly investigated and that justice will be done.
Meanwhile, the state Police Command has also arrested a notorious syndicate that specialised in child stealing and trafficking.
The state Commissioner of Police, Peace Ibekwe Abdallah, said: "Child traffickers came to Uburu with a Toyota Camry, number plates BEN-173-AU, to unleash their nefarious act on the people. Their names are Anthonia Okeke, Chukwuka Muonye and Raphael Kanwei.
"In the course of investigation, one Esther Agbowo of Nkalagu in Ishielu LGA in company of her father, reported that she was lured with her two children to Delta State by one Ekene, who claimed to be a Pastor, with a promise of marriage after performing the necessary introduction rites as required by her people.
"While she was with him at Asaba, she was abandoned by the man and her two kids sold off.
"Operatives of anti-kidnapping team of the command swung into action with Raphael as a pointer and the suspects, who took the kids and those that bought them, were apprehended."
3 policemen face trial over flogging of 15-year-old girl on Vanguard News.