Gov. Udom Emmanuel of Akwa Ibom has urged Nigerians to give maximum cooperate and support to the Buhari administration for it to surmount the present challenges facing "Project Nigeria.''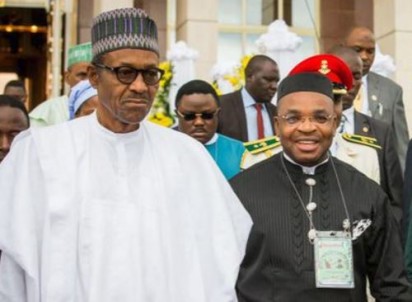 The governor made the appeal while fielding questions from State House correspondents after a closed-door meeting with President Muhammadu Buhari in the Presidential Villa, Abuja, on Tuesday.
He noted the various challenges facing the country demand that all hands must be on deck.
Cue in audio
"We are all running one project; I keep saying so, and our project is just one project and that is "Project Nigeria''.
" Since we are running "Project Nigeria" all hands must be on deck to move the country to the level that we all expect, we all dream of, and I think that is essence of the whole thing.
"And I keep letting everybody know that at this point this is time everybody must join hands together to work for the whole country and see what we can do, both from the states, federal and local government, to support the vision of making Nigeria reach where we want to reach.''
Cue out audio
Emmanuel said that his discussion with President Buhari centred on security and welfare of the people of Akwa Ibom.
According to him, it is his responsibility to always brief the president regularly on the happenings in the state.
He, therefore, reiterated his administration's determination to uplift the quality of life of the ordinary people in the state through laudable programmes and policies.
We must support Buhari to surmount challenges facing Nigeria – Udom on Vanguard News.