By Esther Onyegbula
Despite alleged misconceptions over donations towards the medical treatment of Baby Michael Alvez who has facial haemangioma; Henshaw, Aramide Kasunmu and Project Alert have reinstated commitment towards providing continued medical intervention. It will be recalled about three months ago, 21-month-old baby Michael Alvez and his mother Mary were rescued in Lagos with the help of two individuals named Kate Henshaw, Aramide Kasunmu and Project Alert.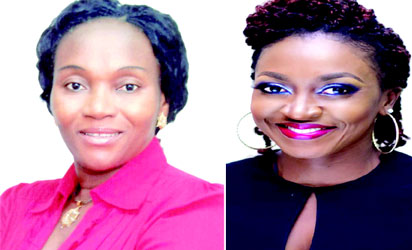 Thereafter the mother and child got admitted into LUTH, baby Michael was diagnosed with ulcerated infected facial haemangioma caused by vascular malfunction worsened by the fact that night and day, sun and rain his mother was on the road with him begging for help.
Notwithstanding efforts by Kate Henshaw, Aramide Kasunmu and Project Alert to ensure that baby Michael Alvez get the best medical care available the family have accused the foundation of not carrying them along.
According to Joseph Orji, (uncle to baby Michael) who accused the officials of Lagos University Teaching hospital LUTH of caging and been to strict on Mary the biological mother of baby Michael, which led to her abandoning the baby in the hospital, "They have not carried the family along, they refused us to visit them in the hospital and even in the shelter they took him to after the nurses went on strike.
It was their strictness on Mary that made her to abandon the baby in the hospital. They took Michael to a shelter when his grandmother has a house in Owode in Ikorodu area of Lagos. We want to know how much people have contributed so far to the treatment of Michael. We want them to hand over everything to us. We will take care of Michael's medicals and social needs".
Meanwhile Syndi Ezeanyeji elder sister of the victim's mother, who appreciated Nigerians, Kate Henshaw, and Project Alert for their efforts and all they have done for Michael said she wasn't impressed with the outcome. However she promised to cater for the social and welfare needs of Michael while Kate Henshaw, and Project Alert took charge of the medical needs.
Rebutting the family claims Kate Henshaw said initially the doctors said that Michael would have to be on admission for an initial one month for further tests to be carried out and treatment to commence. In order to fund Michael's hospitalization and medical treatment a dedicated account known as Project Alert Baby Michael was opened for donations.
The same day baby Michael was admitted in LUTH, the Lagos state social welfare department, was notified. They referred us to the social welfare office in LUTH headed by Mrs Funmi Doherty. The kind donations helped in feeding Michael and his mother/grandmother while in hospital  and also paying hospital bills for the three months Michael was on admission till when he was taken out on June 20 when nurses commenced a strike action which is still on till date."
Vanguard also gathered that Mary who already had three children, continued begging on the streets of Lagos Island with the baby after several persons donated to her personal account when Television Continental aired her appeal in December 2015. One of such donation that stood out was single donation of N460, 000.
It was learned that the road to full recovery is a long one for baby Michael as the doctor in charge of the hospital stated that taking out the growth through surgery will leave a hole on his face as the tissue under the growth is abnormal and not healthy. With strict adherence to the treatment plan of administering propranolol and Nylol gel daily the tumour on Michael's face will gradually compress and shrink.
It was gathered that the decision to take baby Michel to shelter was because his biological mother Mary who is a commercial sex worker abandoned him in the hospital after she threatened to burn down the ward as she felt caged in the ward.
Explaining further, Josephine Chukwuma said "Michael and his grandmother had to be taken to Project Alert shelter for continued care, close monitoring and strict adherence to administration of drugs and hospital appointment.
Kate Henshaw, Project Alert speeds-up medical intervention for Baby Michael Alvez on Vanguard News.