President of the Nigeria Olympic Committee, NOC, and member of the International Olympic Committee, IOC, and Engineer Habu Gumel has hailed the exploits of Table Tennis player, Aruna Quadri at the Rio Olympics describing him as the shining star of the Games.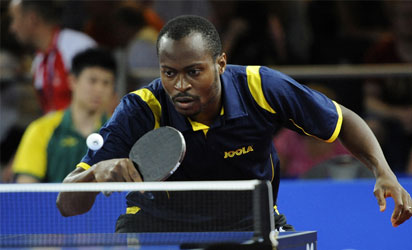 Quadri hugged the headlines when he became the first African Table Tennis player to ever player at the quarter finals of the Olympics before being knocked off the medal range by current number one player, China's Ma Long.
An overwhelmed Gumel said that Nigeria, Africa and indeed the World were happy with the exploits of Quadri who has sent out warnings to show that Nigeria was a powerhouse in Table Tennis. ''We're extremely happy with the performance of Aruna Quadri.
He has lifted the name of Nigeria higher by becoming the first African to reach the quarter final of the Olympics. It is no mean achievement. We in Team Nigeria salute his gallantry and urge him not to lose focus as the sky no doubt will be his limit'', Gumel said.
The NOC President also congratulated the President of Nigeria Table Tennis Federation, Enitan Oshodi for his exemplary leadership which has continuously brought good tidings to Team Nigeria. ''Let me also greet my friend, Oshodi for his vibrant leadership that has impacted on the Table Tennis players.
Since Oshodi came on-board as President of Table Tennis Federation, Nigeria has recorded giant strides. We salute him and salute all other illustrious players who have given their all for Nigeria.
I'll not forget Segun Toriola whose vim and vitality has seen him play in seven Olympic Games. It is not a small achievement'', Gumel said.
Gumel hails Quadri as shining star of Rio Olympics on Vanguard News.