Omokehinde Adebanjo, Vice President and Area Business Head, West Africa for MasterCard in this interview with Morenike Taire, speaks on CSR and MasterCard as a technology company that is focused on women that do not have access to financial products via the electronic payment system.
You represent an organization which does a lot more visible CSR than peers. Why is this?
It is only intuitive that we do what we do. We are a technology company. Even though we have card in our name, we are more digital than anything now. We believe the future is digital. Cash has a cost to government, to retailer. We don't really see that cost but it is there. And cash has some cost that are more like soft cost, you will never hear that any social vice is being done with electronic payment.
CBN did a study. That cost was almost 1.5% of our GDP at that time- before 2010. It correlates with research that we have done which shows that around the world cost of cash to an economy is between 0.5%- 1.5% of the GDP. Migrating to electronic payment makes life easier for the citizen.
The reason we are visible in CSR is because we are passionate about what we believe in.    Averagely women have less access to financial products than men. We see a link between financial inclusion and development, and since a lot of women do not have access to financial products, we think that it is hampering development as a whole. The data is showing that almost half of the population of the world are not optimal, so we are focusing on that.
West Africa is 70% young people. So if you are thinking of financial inclusion,  thinking of tomorrow, we need to start working with the youth on projects they want to do. We did some work with Mercy corps in Nigeria. They found out that only about 30% had birth accounts or some formal form of identity.
How do you align your interests with developmental interests in that manner?
You know we are working with the National Identity Management Commission. Identity really is a big issue not only for people like us, but almost all development agencies because identity is critical to the core of a human being (not specific to Mercy Corps). We tend to have conversations with a lot of development agencies. You hear things like, I am on this project, this is the issue, are you able to support us with partners? The way MasterCard works, it is in partnerships, always in partnerships.
As a policy?  
Mercy Corps was working in a direction we kind of liked; it was on girls. They had a challenge with identification. It is leveraging multiple relationships.
So when there is an overlap or when there is a gap, how do you fill it?  
We have that synergy because    the issues we are talking about are almost fundamental, I was listening to an interview by my president for international markets- her name is Anne Khan- she said identity is a basic human right. Financial inclusion is a basic human right; identity is one of the things that lead to financial inclusion. It is a basic human right for me to have access to a bank account, to insurance.
But when you start thinking about insurance, that is a long way off…
The reason a poor (subsistence) farmer will lose everything  because of weather, is because there is no insurance. And then the reason why an affluent person will lose a lot but really would not have lost is because of insurance. Yes we are talking about the payment side, but people think you are doing that because that is the focus of your company. Yes I will admit that but I will say that financial inclusion includes that and much more.
Have you had any instances where your business interest has had to be compromised to accommodate developmental interest?
When MasterCard got involved with NIMC. The business case is not really clear. You will say what is the business case in this? Unless you have developmental objectives. Which is the reason why MasterCard was the 3rd  payment scheme they were going to be talking about in the scheme. We went ahead in that journey because we actually believed that financial inclusion is the way to progress. We took a developmental view on it and this is the view for Africa really.
You are Technology Company, do you do any CSR with technology transfer in mind?
When you say technology transfer, you are talking about local content. Everybody brings something to the table. We bring best practices, our global experience and the fact that we have been doing this for 50 years. The local partners bring their knowledge of the local market, the local nuances. When you call it CSR, you have assumed that someone is giving somebody. I will say two parties are coming to the table to leverage what they have. It is deliberate because whilst globalization is important, localization is very important as well. .
Local, international is irrelevant: you are a partner, you are a partner.
Well, you are stakeholder, so it's a triangle: there is you, there is developmental agencies, there is government….
UN Women had objectives, we had objectives, NIMC had objectives. We come together and make more impact. Have we demonstrated something to which government can aspire? Maybe, hopefully yes.
I think when it comes to government, it really can't be CSR anymore.
Yes, so what government does is to create a playing field whereby CSR can thrive so there is development. How can government help you to do more?
We have a government that has said all payment should be electronic and those are serious bold statements. That is a government putting its feet on the ground and saying this is the direction we are going. We have financial institutions that are saying I don't want queues in my branches. You have a populace who is young and they love technology.
Merchants like cash. I think they want quick access to payment. It is more like nobody is telling me that my money is hanging. So if there is a way you can make that payment electronic, and still meet their need they would go electronic. If I own a store, I want to be sure that every sale that is made, I get my full money.
Some partnership we did with youth for technology(CSR as well), worked with 1,500 women entrepreneurs. There was this lady called Ufoma Ebri. She has a beauty salon now, she accepts payments digitally. She has like 30 people that are working with her.
Look at how being able to buy and sell online has changed everything.
Payment should be "democratized". I should be able to buy from anywhere regardless of the part of the world it is with my payment tools. I should not be limited because I am in Nigeria, not in 2016. When you buy from Amazon, a lot of those sellers don't have shops, they are probably just warehouses somewhere and they are doing international trade. Nigerian merchants should do international trade that way.
Their ambitions are without borders and that is how it should be.
Don't you think people are deviating from the core role of a woman in the house?
There are very few women I know personally that don't do some form of entrepreneurship by the side. It does not deviate from the role.
If they mention how much comes in through those channels… Nigerian woman is born to be multi talented, it doesn't matter who you are, when you get home, the food must be on the table, the children must be taken care of.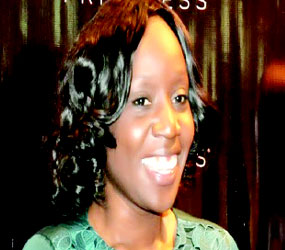 According to SMEDAN, there are about 38 million MSMEs, a lot of them are not banked. You don't even have a shop and you want a loan, but the money that passes through that woman's account on a monthly basis… shops don't make that kind of money. The only way we can have this conversation is because it's become electronic. Who remembers banks when they have bad loans?
There was one woman I was watching on DSTV "my people, my country". She had a stall I front of her house. I will call it a counter. She said I have built a house from this, sent children to university and I am looking at everything she had there.
 If these people you are calling illiterate have access to what you have access to, they have amazing discipline. If they are focusing on money for something, nothing can collect the money from them. How can you build a house from that? Those are the people we need to support.
For women too, the future is digital on Vanguard News.