By Ebun Sessou & Providence Obuh
The out-going Diocesan Bishop of the Diocese of Lagos Mainland and Archbishop of the Ecclesiastical Province of Lagos, Church of Nigeria, Anglican Communion, Most Reverend Adebayo Akinde has called his members to stand united and support the incoming Bishop, Akinpelu Johnson, saying it is only on that premise that the church can thrive.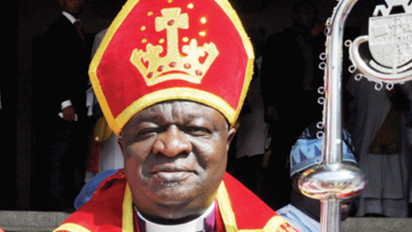 Speaking during a valedictory media chat in his office as part of a month programme organised for his retirement and the celebration of the 10th anniversary as Diocese of Lagos Mainland, the Reverend urged the church to walk in accordance to the precept of God adding that, each and everyone must be true to God's coming here on earth.
"Let everyone who wants to live meaningfully on earth know that we are stewards and managers that would give account of his stewardship. Everybody should live in obedience to God's commandments, and guide against worldliness. As much as we came from different backgrounds, we must know those which unite us as Christians and live the greatest Christian virtue," he said.
With the theme of the anniversary, "Now thank we all our God", Akinde maintained that the faithfulness of God is what has brought the Diocese thus far, adding that the diocese has been to build a three-storey administrative headquarters, 19 new churches, an ultra modern bishops' court, a standard coeducational college as well as bespoke christian event resource centre.
Akinde has spent 10 years as Diocesan Bishop of the Diocese of Lagos Mainland and 4 years as Archbishop of the Ecclesiastical Province of Lagos.
Speaking on science and technology, he said that the country must get it right to make meaningful development.
He said: "Science and technology are indisputable basis of meaningful and sustainable development, if our government wants to consolidate the future of this nation, they must lay a solid and lasting foundation in science and technology. We need to invest in the promotion of science and technology right from primary to secondary level. Science and technology is an esteem indicator for the wealth and reputation of any nation. Not cultural values, not traditions.
"Let us spend more energy on the promotion of science and technology and we will be better off. As I step down, I want to give more time to science and technology advocacy, that was where I started, I will start to cry to the government because no nation makes any meaningful development without a credible and veritable science and technology."
Akinde bows out after 10 years as Bishop on Vanguard News.