After losing his quarterfinal tie against China's Ma Long, Brazilian fans on Wednesday honoured Nigeria's Aruna Quadri by singing a befitting birthday song for the Nigerian who turned 28 on August 9 during the ongoing Rio 2016 Olympic Games in Brazil.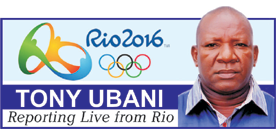 The 2014 ITTF Star Player also believes his performance has boosted the chance of African players in their quest to win Olympics medals.
An elated Quadri said: ""They were really good singers, I was so happy seeing them singing for me, it's an amazing thing."
He however admitted the superiority of Chinese superstar, "MA Long is so much better, so much faster, everything is just perfect about MA Long while his speed was just too much for me. It was not going very well for me tonight and I had a lot more difficulty receiving his service. He was stronger and faster, everything was just too perfect about him."
With his feat in Rio, Quadri believes this would inspire African players to aim for Olympic medals. "I believe that it is possible for an African to win Olympic medal in table tennis because nothing is impossible to go there, and not just me. I strongly believe there are some upcoming players in Africa, including Omar Assar, and some top Nigerian players who could be able to easily match my record with hard work."
African can win Olympics medal – Aruna on Vanguard News.