They are everywhere. Not only in Rio. But the Summer Olympics and the deluge of visitors have really brought the robbers to hug the headlines.
Warnings are repeatedly given to athletes, officials and travelling fans to beware of gatherings. And it is difficult to stay away from such fanciful, colourful gatherings, where women tantalize men with their hips and their dressings that leave you to commit sins without any practical involvement. That is the time they choose to strike. When your attention is arrested and feasting on their women, they tend to take back from you what your eyes have taken from their women. Many have lost their travel documents as well as their iphones, ipads, earphones, cash, handbags, and jewellery. Anything that is not protected. These criminals would do anything to make their steal.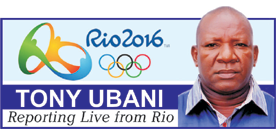 They come in sizes and colours. Once they notice you with a shinning jewellery or phone, they swarm around you and even wrestle you down if you prove a hard nut to crack. The danger in proving stubborn is deadly. They can inflict injury and you become a double loser. Resistance pays. You recover your items and the Police arrest the hooligans. Right inside the massive South African Airlines did I start to get warnings once the man on my side realised that I was going to cover the Olympics. 'It's a nice place to be but you must be careful with those robbers', he said as the big bird sliced through the sky as hot knife through butter.
'Do you love women?', he asked again, heightening my interest as I thought he was going to handover the neat and trusted ones to me. "No, they are everywhere in Brazil. But they can exploit you and rob you", he warned. Could this man be jealous that visitors are going to have a swell time and he tries to keep me at bay from their women?". I thought twice and he remained silent as if he read my mind. When he woke up from sleep, he wanted to resume but Jacob Ajom seating behind disrupted by offering a newspaper where a female columnist, the like of our Yetunde Arebi, dissected the female anatomy. There were explicit pictures to drive home the writer's analyses of how to give full satisfaction to a woman. Having glanced through the pictures, he asked if I was travelling with my friend. He volunteered his seat for Jacob to allow us stay together and map out strategies on how to cover the Rio Olympics effectively like no other newspaper in Nigeria.
Prostitutes, Promos, Prices
I know that many people love promos that cut down prices to rock bottoms. Many companies, especially telecommunication companies in Nigeria, are trying to outdo each other to get patronized. Initially, the intention was good and competition promotes healthy rivalry. Ordinarily! But these are not ordinary times as they hardly abide to their promises.
But one of the oldest professions in the world, Prostitution and Prostitutes are also digging for ways on how to win their own medals as the quest for glory for country gets into gear. Prostitution in Brazil is legal. That means that sex workers are doing descent jobs to earn a living. Only brothels are considered illegal, here. Sensing an influx of visitors to the Rio Olympics, some Prostitutes flashed their flyers yesterday asking for athletes and officials to patronize them as they have very mouth-watering offers to dash them. One of the attractive offers is to sleep over with them and get a day free of charge. Irresistible! Prices have also been slashed as their own contribution to make fans remember Rio for a long time.
Different Strokes!
I was just wondering the other day when a group of athletes breezed past me at the Olympic Village. They were rehearsing for their long distance races. And closely behind them were four athletes twisting and turning their hips, neither running nor walking. It is called Race walking. Race walking,  is a long-distance discipline within the sport of athletics. Although it is a foot race, it is different from running in that one foot must appear to be in contact with the ground at all times.
This is assessed by race judges. making it the most subjective of the disciplines in athletics. Typically held on either roads or on running tracks, common distances vary from 3000 metres (1.8  mi) up to 100 Kilometres (62.1  mi). I wondered aloud with Deputy Chef of Team Nigeria, Fom and Emmanuel Nweri who is popularly called Brainbox because of his electric brain in fixing things. I said that if I were to be an athlete, I would only concentrate on the 100m. It pays more. It's popular. In a flash, you make your money in a matter of seconds, instead of running in a marathon or twisting and turning in the race walking. Anyway, that is the spirit of Olympism. Respect, Excellence and freedom to be what you want to be.
 Oh, my phone!
There is nothing as  frustrating as covering a major event and you encounter difficulties with communication. It could literally make you go mad thinking of deadlines and meeting up with it. It is even worse when you are covering the Olympics here in Brazil and having to wear one wrist watch on the left to keep tabs with time in your country and wearing another wrist watch on your right hand. That's to know the time in your new home. Brazil is four hours behind Nigeria. That means that if it is 4p.m in Nigeria, you have to turn back the hand of the time to know the time in Brazil. If you follow the time of Brazil, before you know it, productions would have been over in Nigeria before you know it. Keep walking! It is more of a Johnnie Walker kind of thing.
That is the dilemma of journalists. I woke up yesterday by 7 a.m Nigerian time. Pretty late to wake up if you are in Lagos and having to contend with the traffic. But the different snoring oozing out from the rooms made me go for my Brazil wrist watch.
It was 3 a.m. The snorting or grunting sound could not allow me go back to bed. I went closer to where the loudest noise was coming from only to be shocked to see somebody as thin as stockfish bellowing out. I thought snoring was exclusive for fat, orobo people. I was shocked. That was what led me to go once and for all sort out the problem with my old reliable Blackberry. After listening to our Health Editor, Sola Charles talk about advantages of Blackberry, I was forced to borrow money to buy one. And it has been what Sola said it was. Four stunning, beautiful girls were all lined out at the Samsung centre and they welcomed me with an irresistible smile.
Banters exchanged as I blabbed in Portuguese and they went full blast thinking I was fluent. They offered to insert the Claro sim inside my phone and pressed something and returned my phone to me. I paid 110 Rears of their currency. That was the end of my beautiful blackberry.    Everything was turned to Portuguese including Nigerian names saved on my sim. When I insisted that they must return my phone to its normal status, their Engineer came up and said that my phone was outdated. The girls giggled, fixing their eyes on me.    I had a phone and yet no phone. They brought the latest Samsung S7 and the likes for me to buy.    They became nicer even touching me to coarse me to buy S7. 'It is sleek, it is sexy, it is inviting', they all chorused.
I looked at them and made contact with my money to make assurance doubly sure  it was still in place. I finally bought a smaller Samsung but the girls claimed that they have made me get a good phone. One wanted to throw my Blackberry to the bin but I quickly grabbed it and remembering Computer Village in Ikeja, where dead phones are resurrected, I put it away counting days to when to bring back my Blackberry!
UBANI'S F-L-I-C-K-S! Prostitutes, Promos, Prices on Vanguard News.