By Ugochukwu Alaribe
Following protests which trailed the nomination of Mr. Donatus Nwankpa as the Abia State representative on the Board of the Niger Delta Development Commission; NDDC, a socio political group, South East Progressive Assembly, SEPA, has urged the three Peoples Democratic Party, PDP, senators from the state to eschew partisanship and support the nomination to usher-in meaningful development in the oil-producing communities.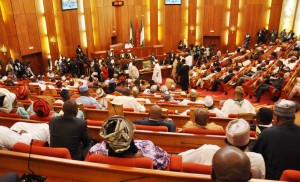 The three PDP senators; Enyinnaya Abaribe (Abia South), Theodore Orji (Abia Central) and Mao Ohuabunwa (Abia North), had opposed Nwankpa's nomination on the basis that he hails from Osisioma Ngwa council area which is non oil producing.
In a statement signed by its president, Ebere Uzoukwa, SEPA posited that Nwankpa's nomination is not only a round peg in the round hole but a unique choice which will greatly complement development in the state and called on the senators not to sacrifice merit on the altar of partisanship.
SEPA maintained that Nwankpa, a former minority leader in the State House of Assembly, has the goodwill to attract people-oriented projects to enhance development in the oil producing areas of the state.
"The South East Progressive Assembly (SEPA) welcomes with joy the nomination of Hon. Donatus Nwankpa as Abia State representative on the NDDC Board by President Muhammadu Buhari. This nomination remains a perfect choice and laudable considering Nwankpa's background as someone with superlative record in public service.
"As a former minority leader in Abia State House of Assembly and former commissioner for Housing and Urban Development in the state before emerging the state chairman of the All Progressive Congress (APC), Nwankpa,has unarguably distinguished himself.
"That he doesn't come from Ukwa West, the oil-producing local government should not override or supplant competence, merit and loyalty roundly considered by President Buhari in nominating Nwankpa for the job. Nwankpa's local government, Osisioma Ngwa, is and remains part of Abia oil producing area as it houses biggest oil facilities in the state. The people of Osisioma Ngwa have indeed suffered severe degradation and negative effects of pipeline explosion and vandalism.
"We also consider it appropriate to remind those opposing Nwankpa's nomination that the pioneer chairman of NDDC, Chief Onyema Ugochukwu didn't have to come from Ukwa West before his appointment by ex-president Olusegun Obasanjo."
Protest: SEPA cautions PDP Senators over Buhari's NDDC appointment on Vanguard News.