By Vincent Ujumadu
AWKA—NNEWI –born businessman and philanthropist, Chief Louis Cater Onwugbenu, has been honoured by Pope Francis as a Knight of St. Gregory the Great. To those around him, the honour did not come as a surprise considering his numerous contributions to the growth of the church and development of commerce in Nigeria.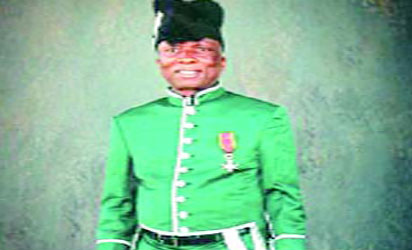 Popularly called Okpata Ozuora Nnewi (the man whose wealth spreads in Nnewi), Chief Onwugbenu was born into an environment of biting challenges. Though his education was truncated by the Nigerian  civil war in 1967, what Louis lost academically he gained handsomely in business.
Undaunted by the ugly war experience, the young Louis, in 1972, just two years after the war, sojourned into the business sector with initial meager capital from his parents who were then into palm produce business.
Sheer determination, resilience, diligence, doggedness and hard work propped him on and on, till he began to expand and diversify into other lines of trade, including manufacturing, agriculture, food processing, estate development, and general merchandise.
Today Chief (Sir) Louis Onwugbenu, with his phenomenal business talent, sits atop a thriving and sprawling business conglomerate. His business expanded beyond the shores of Nigeria to various continents, including Asia, Europe and North America.
Having achieved amazing success, Sir Louis remains an epitome of humility and selflessness. He is a great philanthropist and a staunch Catholic with profound human kindness. His belief and faith in Catholicism never flinched as he worships God in an edifying manner.
A benefactor to many, he has made immense financial contributions to support priests, Rev. sisters, indigent students, the poor and under privileged. As fortune smiled on young Louis, he began early in life to contribute to numerous developmental projects within and outside his home town of Nnewi.
Among such contributions was the magnificent lecture theatre for medical students and nurses at the Nnamdi Azikiwe University Teaching Hospital, Nnewi, which he built and donated for the teaching of medicine and surgery in the institution. He also provided boreholes and electricity to a large segment of his community.
Sir Louis Onwugbenu could be likened to the biblical King Solomon. God in His infinite mercy gave him wisdom and wealth and he wisely deployed them to serve God and humanity. He gave out profusely to the church, the poor and needy. Like King Solomon, Sir Louis was chosen by God to build St. Louis Catholic Church, Uruagu Nnewi, which he accomplished in a record time.
The church was dedicated by the Bishop of Nnewi Diocese, Most Rev. Hilary Odili Okeke on December 27, 2003 and handed over to the Catholic Diocese of Nnewi as part of activities to mark his 50th birthday and silver jubilee celebration of his marriage. In addition, Sir Louis also built the Chapel of Adoration and the parish house. Other philanthropic acts by Sir Louis include ultra-modern school blocks for the nursery and primary schools in Nnewi.
To mark his 60th birthday, Sir Louis launched the Louis Carter Education Foundation for award of scholarships to brilliant but indigent students from primary to post-graduate levels. Today, the foundation has over 100 beneficiaries.
By 1978, Sir Louis, having accomplished much in business, got married to his beloved wife, Lady Patricia Onwugbenu, nee Ojukwu, and they are blessed with eight children. He is not a man who seeks vain glory. Amazingly and in spite of his wealth, Louis Carter lives a simple and selfless life devoid of ostentation. His level of humility is disarming and Christian life, all encompassing. However, his awesome contributions and services to humanity continue to elicit accolades and recognitions through various awards and chieftaincy titles, but in his characteristic traits, he turned them down politely.
However, he could not resist the prestigious and highly revered honour from His Holiness, Pope Francis, as a member of the Knighthood of the Order of St Gregory the Great because, as the saying goes, a gold fish has no hiding place. By sheer providence, the Papal Investiture of the Knighthood on Sir Louis coincides with his August 15 birthday, which also marks his 63rd birthday anniversary.
His children, in a tribute to their father said: "This Papal knighthood is in recognition of your magnificent works, philanthropy and services to the church and community; contributions we have witnessed throughout our lives. Your parents raised you to be God-fearing and impacted on you, that being charitable is a major Christian responsibilities. Despite coming from humble beginnings, your generosity was never curtailed as you grew older, but rather manifested more in adulthood, and it made you appreciate the importance of giving back to community.
"From a young age, you witnessed your mother organize and fund the community block rosary groups and other charitable groups, a tradition you continue to support and sponsor till this very day. As a former mass-server and altar-boy, your prior experiences allowed you to witness first-hand the important role the Church plays in the development and growth of the society.
Your appreciation of the duty of the Church as the bedrock of community life made you sponsor various charities through the Church, and culminated in you building St Louis Church and Father's house in Nnewi. This Church continues to serve as a centre of worship, and a source of inspiration, enrichment and growth of community life.
"Education was another cause that our father was strongly devoted to. You believed that the successful development of young children helps determine future growth and prosperity of communities; that education is an important medium to empower young people to achieve their full potentials. You have granted scholarships to numerous children, and in 2013 on your 60th birthday, you ultimately started the Louis Carter Foundation.
This foundation aims to alleviate poverty by granting scholarships to the poor but academically endowed students, and continues to be a financial source of support to vulnerable children. Your commitment to education has also resulted in you constructing the school buildings of St Louis Nursery, Primary and Secondary School in Nnewi, as well as donating lecture halls to Nnamdi Azikiwe University.
"We are very proud of your achievements and acknowledge this Papal knighthood as an acknowledgement of your lifetime works and contributions to society. It is God's wonderful plan that this knighthood will be bestowed on you on your birthday,  August 15 2016, the Feast day of the Assumption of Our Lady, and a day very dear to our hearts."
Pope Francis honours Nigerian, Onwugbenu with knighthood on Vanguard News.