PDP candidate Pastor Osagie Ize-Iyamu yesterday lamented what he described as the APC's poor job creation ideas.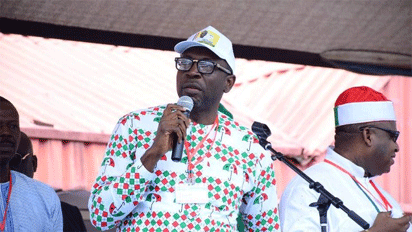 Addressing traders and others at the Evbareke Motor Spare Parts Market in the state capital, he assured them of running a humane government if elected.
Berating the APC governorship candidate for not getting his acts together, he narrated  a recent episode during an APC rally in Orhionmwon, where Mr. Godwin Obaseki was said to have asked the crowd if they have jobs, and they answered in the negative; an action Ize-Iyamu claimed drew the anger of the outgoing governor.
Ize-Iyamu who said Oshiomhole had no record of creating or employing people, promised to be different if elected.
He said it was lamentable that the road leading to the market which was constructed with interlocking tiles by the PDP regime has been left to rot by the APC regime led by Governor Adams Oshiomhole.
After confirming from the traders that none of them benefitted from the Bank of Industry and the Central Bank of Nigeria, CBN loans channeled through the state government and meant for small and medium scale business persons; Ize-Iyamu said his governorship would change the tide in their favor by November 2016.
Oshiomhole has no record of creating employment — Ize-Iyamu on Vanguard News.