*I remain Chairman—Ogodo
*I am the Chairman—Ayomanor
By Godwin Oghre
Sapele—The atmosphere in Sapele, the ancient of Delta State, is charged as the leadership tussle which engulfed the area four years ago looms again, following a disagreement between the executive of the embattled Chairman of the community, Mr Moses Ogodo, and that of the parallel chairman, Mr Anthony Ayomanor, which was set up a week ago by the monarch of the area, HRM, Orue 1, the Orodje of Okpe Kingdom.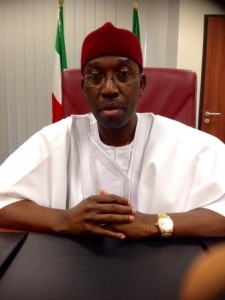 While the monarch had last week inaugurated the new executive, 'to pilot the affairs of the community pending a conducive time when an election would be held to put in place a substantive executive committee,' Ogodo, who spoke on the status of the new exco and whether he was ready to handle over power and the community's Trust instrument to it, said: "I remain the Chairman of Sapele/Okpe community. Aside my exco, any other one is illegal and we are resisting it with the last drop of our blood."
Ogodo who was absent on Sunday at the ceremony arranged by the monarch where he was expected to hand over the chairmanship to Mr Ayomanor, added, "The king's action in which he purportedly dissolved my committee, which is an interim executive committee as we all know, only to set up another interim committee, is illegal and of no effect.
"Aside the provision of the constitution of the community which does not empower him to dissolve or set up any interim executive committee, it is constitutionally the exclusive right of the people to determine who rules them, how they are ruled and the tenure of office of exco.
"There is nowhere where you can have two interim excos. We had leadership crisis in the community few years, which shifted to the court and the people set up my interim exco pending its outcome and for a new election will be done. That case is still pending.
"There is even a subsisting court injunction restraining the conduct of any election. The court even ordered maintenance of status-quo. I urge my people to be law abiding and go about their businesses as there is no cause for alarm. I remain chairman."
I am Chair, no going back —Ayomanor
In response, leader of the new exco, Mr Anthony Ayomanor, said, yesterday that he, and not Ogodo, was the chairman of the community.
He said, "I am the current chairman of Sapele/Okpe community. The king dissolved the Ogodo exco and inaugurated my 11 man exco and mine remains valid and we have stepped in and there is no going back on that. We are to be in office until such time that is conducive for an election to be conducted to produce a substantive exco."
Leadership crisis looms in Sapele over dissolution of exco by monarch on Vanguard News.