By Monsur Olowoopejo,
Lagos State Government  yesterday, said it would henceforth confiscate any structure used as hideouts by kidnappers and other criminals in the state.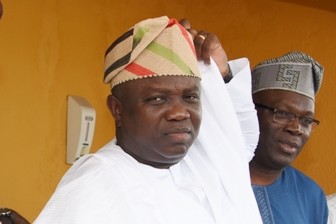 This came as the Oba of Lagos, Oba Rilwan Akiolu, charged traditional rulers and residents of the state to be alert in the face of upsurge in kidnapping and other crimes in the state.
The Oba's warning came barely four days after the Oniba of Iba land, Oba Yushau Oseni regained freedom three weeks after his abduction.
Akiolu, who led the Council of Obas on a visit to Ambode at the State House, warned that the rate of insecurity in the country demanded that traditional rulers rearranged their security architecture to nip crime in the bud.
Meanwhile, Commissioner of Police, Lagos State Command, Mr. Fatai Owoseni, while briefing on the outcome of the State Security Council meeting presided over by Governor Akinwunmi Ambode, said  government was determined to flush out kidnappers and militants from the state.
According to him, "The security council meeting is for us to look at the strategies that we will be employing in tackling the crime challenges that we have in the state and to further come up with strategies of sustaining those measures that will put criminal elements in check. The security council wants to let our people know that the state is more poised to tackling all criminal activities and making sure that all the criminal elements in the state will not be allowed the freedom to practice any criminal act.
"That there is no hiding place for criminal elements. In addition to that, it has been resolved that any structure, building or any places that criminal elements are using in the state will be confiscated. The state will not hesitate in the interest of public to take over those safe havens, structures or houses that these criminal elements are using as hidden places to perpetrate their activities."
Speaking during the meeting, Ambode said at the initial stage when the Oba was kidnapped, it appeared as if government was not doing anything, noting that, that was not actually the case.
According to him, "It was not just a sacrilege in Yoruba land, but the traditional institution was indeed desecrated. So, we needed to dig into what really happened to reach a logical conclusion. I want to thank the Oba of Lagos and all of you that showed concern and support. This kind of thing must not happen in our land again. We will now pay greater attention collectively to the security of our traditional rulers."
Lagos to impound buildings, hotels used for Kidnapping on Vanguard News.