The Nigeria Olympic Committee, NOC has moved to avert crisis in Team Nigeria camp as it has said that all athletes representing Nigeria at the ongoing Rio 2016 Olympics are to get equal daily allowances of $150 US Dollars each like the U-23 players.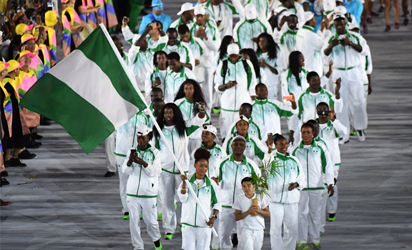 This has put paid to grumbling by some athletes and officials over the perceived discrimination and special treatment for the footballers who were paid their allowances after the victory over Sweden at the weekend.
A top official of the Nigeria Olympic Committee informed that the President of the NOC, Engineer Habu Gumel has ordered that all the athletes be paid their allowances. "He has also directed that the athletes be paid their full allowances for 21 days," the official added.
It was however, revealed that while the NOC boss was insisting that the athletes be given their full allowances, some top officials of the Ministry of Sports and Youth Development favored half payment, preferring to pay the balance at the end of the Games.
"What I know is that all the athletes will get their allowance tonight(last night), what is left to be seen is whether Gumel or ministry officials will have their way," our source added.
Equal allowances for Team Nigeria athletes on Vanguard News.