The rapturous applause that greeted his exit from the Table Tennis event of the Rio Olympics could have been mistaken for a victorious ovation.  Nigeria's legendary table tennis icon Segun Toriola exited the Games on Sunday but held his head high the way only legends do.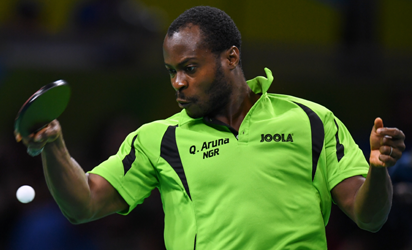 His conqueror, Japan's Niwa Koki who won the men's singles event, joined in acknowledging the iconic star who raised his hands to return the sporadic applauses.
Not long after his defeat,  Toriola who made history by joining the elite stars' club of players to have attended seven successive Olympics turned out to be the beautiful bride, sought after by many countries to sign as their coach.
"Countries are queuing to see who will out-bid each other to land Toriola as coach'', a very dependable source said here.
Interestingly too, Nigeria is also desirous of signing Toriola as coach.
President of Nigeria Table Tennis Federation,  Enitan Oshodi said the federation has always been interested and would want to concretize the deal, noting however, that Toriola is still fit to continue with his club commitment.
"He'll be an asset, which he has always been to our younger athletes. We'll see how to make it even if it means living abroad and coaching from there as it were. The young man deserves all the accolades he is getting.
That is the result of discipline and hard work. And honestly, they are the things lacking in our youth players. They are in a hurry to ride expensive cars without working for them'', Oshodi bemoaned.
Just as the International Table Tennis Federation plan to honour his historic 7th Olympic appearance, there are feelers that officials of Team Nigeria are also planning to roll out the red carpet for this eminent Nigerian Ping Ponger.
Countries scramble to sign Toriola as coach on Vanguard News.