By Emman Ovuakporie and Johnbosco Agbakwuru
ABUJA – AS controversy continues to trail the alleged padding of the 2016 budget, some members of the principal officers of the House of Representatives have accused the Majority Leader of the House, Femi Gbajabiamila of being the mole that leaked to the former Chairman of Appropriation Committee, Abdulmumin Jibrin the decision of the leadership to sack him.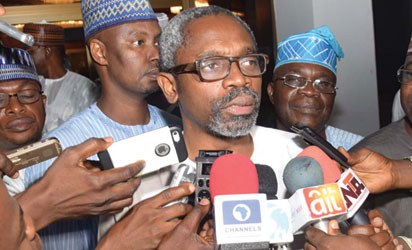 This is as the House Committee Chairman of Health Services, Chike John Okafor has denied the allegation from Jibrin that he (Okafor) moved massive amount of money from the health budget to make the exercise a big joke.
Okafor who represents Ehime Mbano/Ihitte Uboma/Obowo Federal Constituency of Imo State noted with dismay that Jibrin neither said where the money was moved from nor where it was moved to.
He said, when the allegation was made against him, "My first impulse was to ignore the blabbing which was fast becoming the hallmark of Jibrin, but on a re-think, letting the lies fly without calling it by name may expose some gullible audience to the risk of choking on the mendacious gibberish that has become Jibrin's biggest capital in recent times.
"In the publication crawling with deliberate misrepresentations and wilful lies designed to rope in any person within reach, Jibrin who referred to me as 'Chairman, House Committee on Health' open-endedly accused me of 'moving massive amount of money that made the exercise look like a big joke'.
"Jibrin neither said where the money was moved from nor where it was moved to.
"When you have been around and about in fiscal circles you will know the signs when you see them – Jibrin is merely grasping for straws and clearly cuts a picture of a man who has reached the end of his tethers in a desperate bid to hide his smear in the crowd of imaginary culprits he conjures 'daily' with such voodoo-vibrancy, one begins to wonder where he left his honour.
"He accused me of unilaterally working the budget on health; my 'personal estate' he called it. And I really wondered- Has this man really been with us in the House of Representatives in body or in hologram?
that there was a mole in their midst.
Budget padding: Reps principal officers accuse Gbajabiamila of betrayal on Vanguard News.