By Simon Ebegbulem
BENIN CITY—Edo State Government has presented N10 million cash and other relief materials to the people of Bekuma in Akoko Edo Local Government Area of the state, who were affected in an attack on them by some youths from a neighbouring community on March 30, 2016.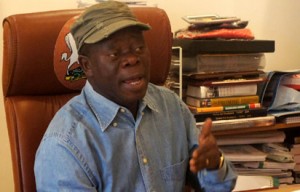 Presenting the N10 million cash and 150 bundles of roofing sheets to the Oba of Bekuma, Oba Moses Alabi at the palace of the Otaru of Igarra, Oba Emmanuel Saiki II, yesterday, Governor Oshiomhole, said that anyone who ever again resorts to arson and killings in the name of reprisals will be prosecuted and sent to prison if convicted.
He said: "If we quarrel, we must not allow it to degenerate to madness as to begin to burn property, houses, destroy assets or even kill people, which is absolutely unacceptable. We must work together, that is, the traditional institution, the local government and the state government, to identify criminals, it doesn't matter what interest they pretend to canvass. Arson is a serious crime.
"Destruction of property is a very serious crime. Killing is a very serious crime. It is a capital offence in our legal system. I want to make it very clear, if anyone further resorts to acts of destruction, killing or arson, Edo State Government will prosecute the person immediately, and if we secure a conviction, we will send the person to prison. People like that belong in prison. Nothing justifies those levels of violence as to render anybody homeless."
Arson: Edo community gets N10m cash, relief materials on Vanguard News.