Nigeria's preparations for the 2016 Rio Olympics have  been overshadowed by the absence of fund, lack of training tours and poor camping generally. All these paint a gloomy picture and low expectations among Nigerians.
Despite the foregoing, Nigeria athletics coach to the four runners in the hurdles event, Solomon Aliyu is not losing any sleep over the medal chances of his wards. "Our chances are very bright," he started. "We are here with our best."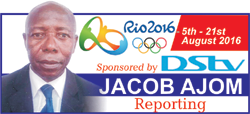 In Aliyu's army are Olu Atobilolloba Amusan(100mtrs), Amaka Onyegbulam(400mtrs), Miles Okoma(400mtrs) and Antwon Hicks(110mtrs). And the coach believes all are capable of reaching the final of their respective events. In the women's 100mtrs hurdles for instance, he said Amusan personal best of 12.8 secs makes her a favorite for the event here in Rio.
"Just before the games, a new record of 12.2 secs was set by an American. I believe Amusan can improve on her personal best during the competition," coach Aliyu said. "She is the youngest of the four and I believe the Olympics will be the best stage for her to prove her worth, more so when she has been exposed to modern training regime in the US."
He said for Antwon, the sky is the starting point. "He will do well in the 110 hurdles. He ran a perusal best of 13.0secs and the world record is 12. 7secs. With his present shape and experience, having run against some of the best in the world, he is sure to get to the final and can go for gold."
The coach, however, acknowledged the fact that the team had problems before the games but said, "during major events like the Olympics, all a coach does is to manage his athletes and psyche them up. You only talk about how to win while putting aside all the problems. The athletes have no excuse than to make qualification possible through their own efforts and those of their coaches."
Olympics : Our medal chances are bright — Aliyu on Vanguard News.