By Levinus Nwabughiogu
ABUJA — The Presidency, yesterday, said President Muhammadu Buhari was not favourably disposed to Muslims against Christians, following the outcry that trailed the concessionary rate of N197 to $1 granted intending pilgrims for 2016 Hajj operations.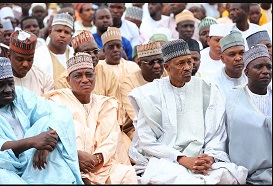 The Presidency reaction was conveyed through the Senior Special Adviser to the President on Media and Publicity, Mallam Garba Shehu, in an exclusive chat with Vanguard.
Shehu, who revealed that Muslims and Christians alike had always got the same and equal treatment from the government in every pilgrimage, explained that the Hajj Commission never asked for concession and was never given any.
He pointed out that what the commission requested was to be given Forex at the prevailing exchange rate which was N197 to $1 at the time of the appeal.
He said: "The Hajj Commission did not ask for concessionary rate and was not given a concessionary rate. They asked to be given Forex at the prevailing exchange rate and at that time, it was N197 to $1 and they entered into contract with intending pilgrims that they will pay at the given rate. So, no wrong had been done."
2016 Hajj: Buhari not favouring Muslims —Presidency on Vanguard News.