By Moses Nosike
Following the unfavourable state of Nigerian economy in which many have lost their jobs and homes suffering hunger and poverty, the Managing Partner, Gelmine Consulting Limited, Jasmine Ngozi Onyemachi, an entrepreneur and mentor, advocating women entrepreneurs, SMEs has called for more women entrepreneurs to strengthen their homes and the nation's economy. She also advised women to be valuable partners and not be a liability to their spouse. Excerpts:
Nigeria today needs more women entrepreneurs and SMEs to boost the economy, what is your advice to women on this?
I'm happy with the recent developments in the country as women are beginning to venture into the field of politics, business, investment and other women empowering ventures and they are now speaking out. Today, they champion various causes and for me that is an eye opener to the fact that women are beginning to regain their voices.
Entrepreneurship is not an easy fate. It's something you prepare your mindset and psyche because you will face challenges which have to be surmounted in order to achieve your goal. I always advise that integrity plays a first priority role in everything you do. Let people vouch and recommend you based on capability, integrity and approach to work. Once you can achieve this, moving up in the society and business world becomes easy. Today, the business world is more of networking and the networks you create should be able to attest positively to your service offerings. These positive attestations lead to recommendations and increased clientele for your business. That is my advice to every woman who wants to become an entrepreneur. Ensure integrity is your watchdog.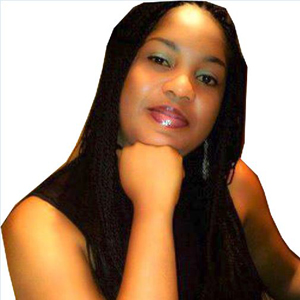 What role do you think government can play in women entrepreneurship?
I believe government has a leading role to play. There should be schemes and grants tailored for female entrepreneurs. It is a known fact that women are less prone to loan defaults. Today the World Bank is playing a very strong role in that regard through the schemes for women empowerment. The government should come up with such schemes because the stronger women you have, the better your economy. That is what I believe. Presently, I don't think we have enough programmes from the government to help women. More programmes should be created to assist women in the society.
What does Gelmine Consulting represent or do in Nigeria economy?
Gerlmine Consulting was bred out of the need to bring quality branding, marketing communication to businesses. I came up with this brand because I noticed that a whole lot of service providers were giving low quality services at huge charges and they are not also playing the part of giving professional advice on how to grow businesses. That is what Gelmine does. It is a consulting firm that helps project, create visibility and quality business processes for any business. This includes creating a brand identity, ensuring consistency in communication materials, creating brand awareness (website, social media platforms, corporate profiles), etc. We mentor them as we go along till they gain a strong and unwavering ground in the business world. As at now, we have a good number of clients both SMEs and limited companies, though we are still very open to new clients with open minds to investment and business development.
Advocating female entrepreneurship and SMEs, do you intend to establish vocational centres for skill acquisition?
I'm thinking in that direction and I have been working on something for a while, and I'm just waiting for the right investors, partners to kick off. What I have tried to do so far is to help young women become entrepreneurs and become business owners. Get them to get vocational skills apart from the educational institutions. You should have a skill of your own that would help you fend for yourself.
I'm always an advocate of that. I have thought of running a vocational centre that would encourage as many women as possible, ranging from age 15 upwards, because I believe these days we should move adulthood from 18 downward because children are becoming more enlightened and mature before age 18. For me, I think we should start young and start getting young women who are mainly from rural areas, mostly orphans and single mothers who have to fend for themselves and their children. For me, it's key to getting them to become skilled. For instance, woman on the street, making hair can't go hungry.
Another issue I would want to address among women is that they should learn to believe in themselves if they must achieve results. Some of them have lofty aspirations but at some point they lose focus because they don't believe in themselves and their dreams. It happened to me. Several times I had woke in the morning and became discouraged until I remember backlog of responsibilities knowing that if I don't do something, there will be problem. Again, what would my children think of me when I'm gone? These are important factors. It should be infused into our curriculum so that women come out bold enough to face life 's challenges.
What would you advise a woman with a big dream to actualise but her husband says no, remain in the house?
That is a very touchy and a big issue. I can only speak in the capacity of my experiences as a Nigerian woman. It is unfortunate that we have men like that. There are women who love to be house wives and others are career and business minded individuals, We're not all the same. Some women are ambitious and have something they want to pursue. Some are comfortable as wives and mothers – they want to take care of their own and there is nothing wrong with that. But if you happen to marry a woman who has the gift of ideas, creativity, ambition and all that, please allow and support her in actualizing it, because when you don't allow her to birth her true person over the years you will discover that the marriage will be uncomfortable for both of you because her dreams are locked up inside. Indirectly she will become aggressive and all of a sudden you will discover that the woman you married has changed.
Yes! She is not doing anything wrong at home, but she has changed. She is becoming more aggressive and you don't understand why. It's simple, when you married her she had a dream, if you can't help her build that dream in the right way that would benefit her, family and the society at large, the peace and joy of marriage will be lost in bitterness.
If both the man and wife are on the move, would you prefer maid train your children?
My take on this is simply. Given the recent events in the world and economies, we can't leave everything to the man. I keep repeating that husband and wife are partners and they have to help each other. At the point where children are beginning to come, sacrifices have to be made. It could be either the woman or the man. It must not always be the woman. There are cases I know where the woman earns a whole lot more than the man and nobody knows it. Is either the man decides to start a business where he can have more time for the kids while the woman is doing her 9 am – 5pm job that is bringing more money or the woman would of course go into business so that she will have more time. That is what entrepreneurship does for you. You can actually work with your time. So, it is a matter of understanding and this is achievable.
More teenagers going into prostitution, why?
A couple of months back, I heard this confession in an event organised for ladies. Most of them were led into prostitution by their parents particularly mothers. She sees the other parents whose daughter has bought a car, new furniture, attires, etc. and wonders why her own daughter hasn't done same for her. Trust me I have heard things that are unheard of. Some mothers would seriously demand their daughters should go out there and use their body to make money or any way they want to do it.
The society is not helping matters we know, but charity begins at home. How you bring up your child plays a big part in how they turn out in life. If a child is trained in such a way where she sees how materialistic her parent is towards life, then she will begin to run after material things but if your child knows that she can be whosoever she wants to be by developing herself positively by choosing to become a person of value in all areas of her life, then we will have a generation of leaders, achievers and can then rightly be called queens in their own homes. Making your daughter or ward believe that they can achieve whatever they set their minds without having to sell their dignity and pride for money/material thing that will fade with time.
Recently, there was a lady that came out by a major road either in Abuja with a placard written, Ï need a job". It was in a social media. That was being innovative and creative and that spoke volumes to the likes of the visionary and philanthropist known as Mr Tony Elumelu who decided to give her a job. If her parents had insisted that life is all about materialism, how much money you make and it doesn't matter how you make it, I do not believe this will be her story today. She would have moved from one employer to another who is ready to have sex with her to offer her job and nobody would know, but I believe she knew she is better than that. Hence the mentality of a child from the onset is what makes her what he/she is. Again, there are circumstances that push some of them into what they are doing.
Most of them were brought up well but at some point they drifted. I have a case of a particular lady, well brought up in a Catholic family, do their prayers when needed and stay away from things that would rub of her the wrong way. Unfortunately she lost her parents and she is the first born and the only daughter with three young brothers to fend for. When her parents extended family refused to help them, she began to listen to the wrong people parading themselves as friends, who told her you are beautiful and that's all you need to make money.
She told me she tried meeting people for help and they would rebuff her, guys insisted they must sleep with her before giving her a job. A friend of hers advised her to stop asking men for help, since they are looking for something, she should charge them for it. That's how she started. Did it the first, second and third, she was able to pay her younger brothers' school fees in primary and secondary and even up to university. She realised that she could make a living by doing that, so she continued. There are circumstances like that. I believe there should be institutions built by government and appoint committees that support such individuals not just NGO's. There should be more foundations created and funded to help people out of this menace that is creeping into the society.
Raping of minors is on the increase in our society how can we reduce it?
The truth is that it has been happening long before now but those cases were not made public, because the social media was not available or easily accessible to everyone. The fact that we can read/hear about these horrendous acts everyday now is simply because of social media is accessible. People can take shots and post on social media sites and news apps are now available to the cheapest phones. If you interview a couple of young ladies even young men in their late forties who want to be open, they have had painful experiences that shaped their lives. The difference is that in the past you dared not speak out in fear of the societal stigma of being raped or sexually molested.
How can we curb it?
Our young ladies have to start dressing decently. Most ladies don't know that the more you reveal the less attractive you become. People that are attracted to that nakedness are those who don't have value the secrecy of womanhood and as such assume you are sending the green light to those who understand it. But when you dress decent, it doesn't take away from your shape or other physical attributes. A man that is genuinely interested in you will see you beyond that which you are hiding and will respect you even more. A lot of women are encouraging this by the way they dress. I did a little of that when I was much younger due to peer pressure.
I realised I wasn't comfortable and didn't like the way men looked at me. I decided to go my normal way of dressing, put on my trouser and a nice top or knee length skirt/gown and I'm comfortable. This is not denying the fact that their are paedophiles and physiologically imbalanced males who prole out of a need to quench a mentally imbalanced appetite for these ugly activities, such need physiological help and therapy to overcome these ill urges and not just sending them to jail or jungle justice.
My advice to those who have such urges speak to your Pastors, Imams or parents about them and they will be able to offer some solution or guidance as to how to flush out such abnormalities permanently. And to the victims, speak up or you will live with the horrific nightmare all your life and will become a rigid and unhappy adult.
More women entrepreneurs would help strengthen economy— Onyemachi on Vanguard News.