BY JIMITOTA ONOYUME
Former Governor of Delta State, Dr Emmanuel Uduaghan has enjoined the President Muhammadu Buhari-led Federal Government to ensure governors in the Niger Delta region were part of the engagement process towards resolving militancy and challenges of under development in the region.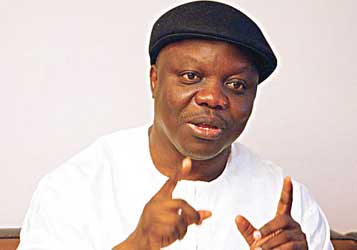 Dr Uduaghan who spoke at the opening of the ongoing Nigeria Guild of Editors conference in Port Harcourt said the amnesty programme could not achieve the desired peace in the region because governors then were not part of the engagement process.
"The amnesty did not achieve what it was to achieve because the governors were not involved. The states should be involved. The biggest threat in the Niger Delta is that our land is seriously polluted especially water. In those days you could see the sand under the water. We used it to wash our teeth. But it is not so anymore.
While appealing to the Niger Delta Avengers to cease hostilities in the region the former governor also urged the Federal Government to explore the instrument of dialogue in calming down insurgency in the region, stressing that force should only be a last option.
"Niger Delta Avengers, are busting our pipelines for whatever reasons, anger. Nigerians are looking at it as something just affecting only the economy. Dealing with the Niger Delta challenge should be a carrot and stick approach, engagement and force where necessary. Engagements should be deepened. The governors should be part of it.
"I want to appeal to our brothers in the Niger Delta Avengers that what they are doing is not just damaging the economy but the waters. I appeal to them to stop it. The media should also help appeal to them to stop it," he said.
The former governor also challenged the media to help redirect the mindset of Nigerians towards the gains of agriculture, stressing that Nigerians should be made to treasure it as a major money earner.
He recalled as governor that he introduced what he termed, Delta Beyond oil, a project that stimulated interest of citizens of his state in agriculture.
He said it was time the nation moved beyond oil, adding that the major task of the media should be how to reawaken interest in the agricultural sector. "We need this mind change," he said.
Militancy: Expand engagement process in N-Delta, Uduaghan urges Buhari on Vanguard News.