By Bashir Adefaka
Towards achieving peace in the Niger Delta communities, Commander of 13 Brigade Nigerian Army, Calabar, Brigadier General Bulama Biu, has appealed to militant groups and other criminals in his state of responsibility, Cross River, to redirect their energies towards peace building and take advantage of the Federal Government's gesture for meaningful dialogue.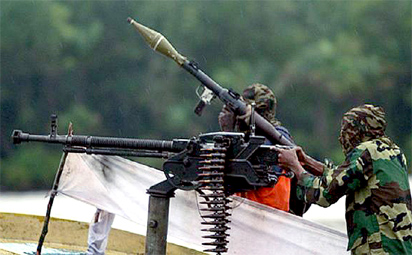 The commander called on people in possession of firearms and dangerous weapons in the state to surrender same to law enforcement agencies warning that if anyone was caught in possession of one, he would be treated like criminal.
Handing down the warning at a meeting with communities in Ikang, Bakassi and Akpabuyo areas of the state, according to a press release signed by 13 Brigade Nigerian Army Calabar's Public Relations Officer, Captain KO Owolabi, the 13 Brigade Commander, General Biu enjoined the citizens to be law abiding and report any suspicious character in their respective communities to law enforcement agencies.
"The Brigade chief appealed to those in possession of firearms and other dangerous weapons to submit same to law enforcement agencies, warning that if caught, they would be treated as criminals," the released stated stressing that the Nigerian Army and other security agencies in Cross River State had in the last week embarked on a wide scale joint patrol to reassure people in the state of security forces' readiness to tackle any form of criminality in the state and that General Biu informed the people that the Nigerian Army in close collaboration with other security agencies had strategised to continue to ensure adequate security for life and properties in the state.
Surrender your weapons, Gen Biu warns militants, criminals on Vanguard News.