By Johnbosco Agbakwuru
President, National Youth Council of Nigeria, NYCN, Ikenga Imo Ugochinyere has told President Muhammadu Buhari to relieve the Minister of Youths and Sports Development, Solomon Dalung, for allegedly abandoning the U-23 football team in the ongoing Olympic tournament, in Rio Brazil.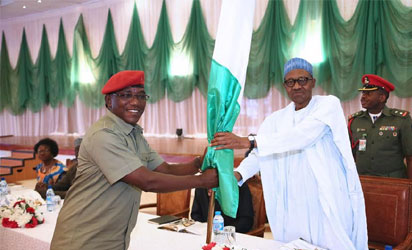 Ugochinyere who is also senior special assistant to the Senate President, Bukola Saraki on youths and student matters, expressed dismay over the alleged ill treatment meted out to the Dream team that led to their being stranded in the United States.
In a statement in Abuja, the NYCN president said, "Nigerians are still in shock by the comments of the Minister of Youth and Sports Development Barr. Solomon Dalung clearly left the Nigeria national Under 23 football team to their fate after it was put to him by journalists that the team was suffering and stranded in the United States of Nigeria.
"If the Minister were on top of his game, he would have ordinarily known where and how the team was training for the Olympics, but he did not know. Mr. Dalung was only interested in the money he was going to make from the games.
"It was Dalung who as Minister of sports allowed Nigerian athletes who have qualified for the games to go online to source funds for their air tickets. This last resort of fund raising online by the athletes is an one that arose clearly out of the Minister's incompetence."
Ugochinyere stated that beyond the comments of the Minister which allegedly were meant to embarrass the entire nation further, the team was abandoned in the US and was only able to arrive Manaus, venue of their match few hours to kick off after an 8 hour long flight.
He said, "The binding force of football in our country cannot be overemphasized and the pride of having our national anthem rendered to the attention of the entire world at the Olympics cannot be rivaled by any other feeling.
"Minister Dalung has failed in his duty to coordinate the Nigeria Olympic Committee and all other Federations as is expected of him. Mr. President should not hesitate to relieve him of his duties before he brings our dear nation to more international disrepute."
He, however, commended the National U-23 football patriots who despite the atrocious abandonment went ahead to beat their Japanese opponents and make our nation proud.
"It is clear they are not holding it against the nation as they have identified it is the incompetence of one man that was responsible for their plight.
"We wish them and indeed all other athletes proudly donning the famous green-white-green to endeavour to compete clean and bring back laurels to our country without paying attention to the incompetence of Minister Dalung."
Sack Dalung now, Youth Council President tells Buhari on Vanguard News.