By Ejike Ezeilo
A US-based renewable energy power firm, Motir DuSable Power Investment Limited, has sited its 200m dollar solar project in Enugu State to generate 300 mega watts of solar power into the national grid. In the first phase of the project, the firm is to generate 100 megawatts of solar energy which will subsequently be increased to 200 megawatts in the second phase.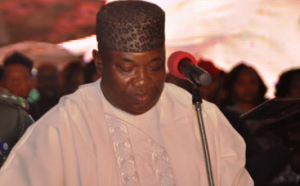 The drivers of the project which is a joint venture between two US-based power firms have already signed an MoU with the Federal Government of Nigeria to site the project in Enugu State with the goal of making the state the hub for renewable energy generation in Sub-Sahara Africa.
The chairman of the firm, Mr. Emmanuel Irono, yesterday made a presentation of the company's planned take-off of the project during a performance review retreat of the Enugu State Executive Council holding at Nike Lake hotel, with Governor Ifeanyi Ugwuanyi inattendance.
According to Irono, chairman of Motir DuSable Power Investment Limited, "We have a joint venture that would enable us to bring this project to Nigeria and we are licensed and have gone through all the processes and procedure in terms of the power purchasing.
Also, we have an alliance that can help us go through the various segments necessary for this project to be successful. "So,  today is the first day that we are meeting with the governor and his executive council members right here in Enugu and we are very pleased that it turned out a positive meeting", he explained.
He further stated that the project comes in phases, adding that the first phase will cost about 200m dollars while another phase that will come thereafter would also cost 200m dollars.  "Depending on the capacity we can do as they allow us but our partners are willing to consummate the project".
On the gains of the gigantic project, he said, "Our intention is to be able to bring more jobs, more opportunities, more innovations to Enugu State and to Nigeria. We believe that this will be a fantastic projectfor job creation and a mission critical for the Federal Government of Nigeria and Enugu State.
"This is because we can empower Enugu State people to have access to power.  If everybody wins, it becomes a win-win situation for all of us", he stated. "The state will be  a collaborating partner in terms of making sure that our investment is safe and that the money we are bringing in is safe.
They are not a financial partner.  So the money we are bringing in is hundred percent to enable us fund this project". Commending the governor for his warm reception and frankness, he said the fact that the governor invited them to the open floor to talk about the project was  'simply amazing', noting that this was despite having not met him before.
Enugu gets $200m renewable energy projects on Vanguard News.